In this guest post Lucy Turner from the Whitworth gallery in Manchester shares ways they have supported play with babies and young children online throughout the pandemic.
The significant lack of social opportunities for babies and pre-school aged children, as a direct result of COVID-19 restrictions, has garnered little political attention. PLAY Live tackles this head on, providing much needed social and physical development opportunities for our youngest children.
Launched in October 2020 and using Zoom, PLAY Live is the Whitworth's response to the COVID-19 pandemic, as a way to take the Early Years programme online and into people's homes, schools and nurseries. PLAY Live brings together over 550 children and their grown-ups each session, using play as a catalyst to promote creativity whilst alleviating loneliness, isolation and improving wellbeing.
Staying true to the ethos of PLAY Studio (which before COVID-19 was a weekly drop in studio space where under 5s could play, create and get messy) the unstructured and child-centred 'play' in PLAY Live is what makes these sessions so unique. PLAY Live strives to maintain a child-led, play-based approach to learning and a focus on process over product even through an online platform.
"We don't want it to be 'do this now, do this now' … instead there is no wrong. We suggest things, but never expect any child to go along with what we've suggested. And if a child is absorbed in one activity then there is no pressure to move onto the next until they are ready. This is always explained at the beginning to grown ups." PLAY Live practitioner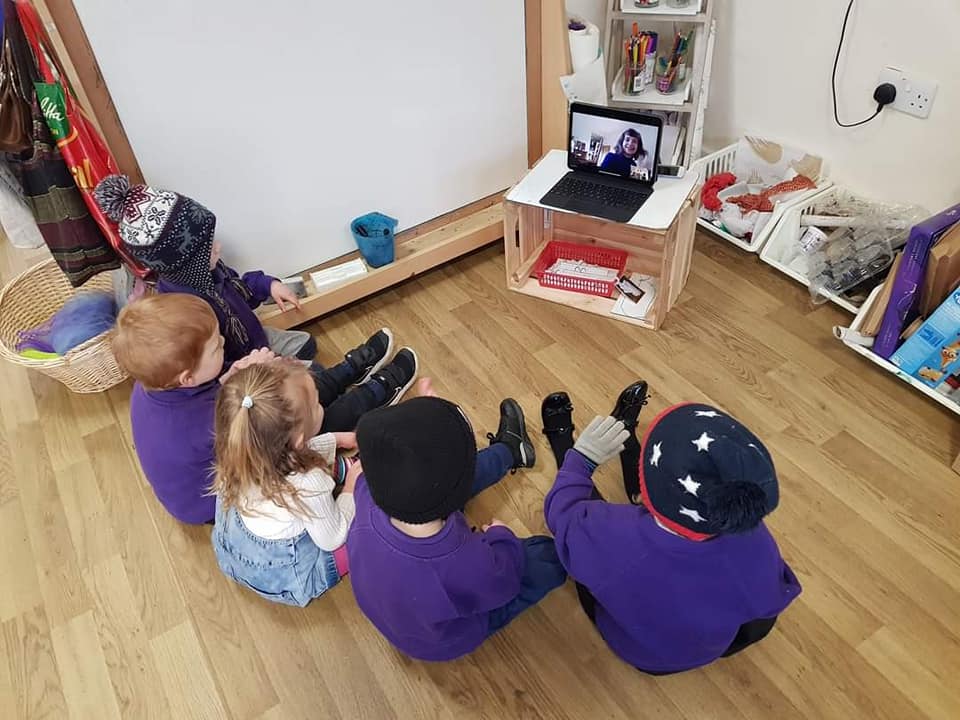 The Practitioner's Role
The PLAY Live practitioner's role is to model and suggest rather than teach, allowing ideas to come from participants and making the sessions truly child/parent centred. Zoom's spotlight function is used to aid this. Highlighting participants and making them 'big' on the screen allows the participants to feel interaction and connection with each other rather experiencing the session passively. For example, the practitioner might see an idea on an individual screen, spotlight it for everyone and say "let's all pretend to fly like… or "let's all get in our boxes like…"
"We love joining in these activities at home. It feels like lots of us are doing it 'together' even though we are apart." PLAY Live parent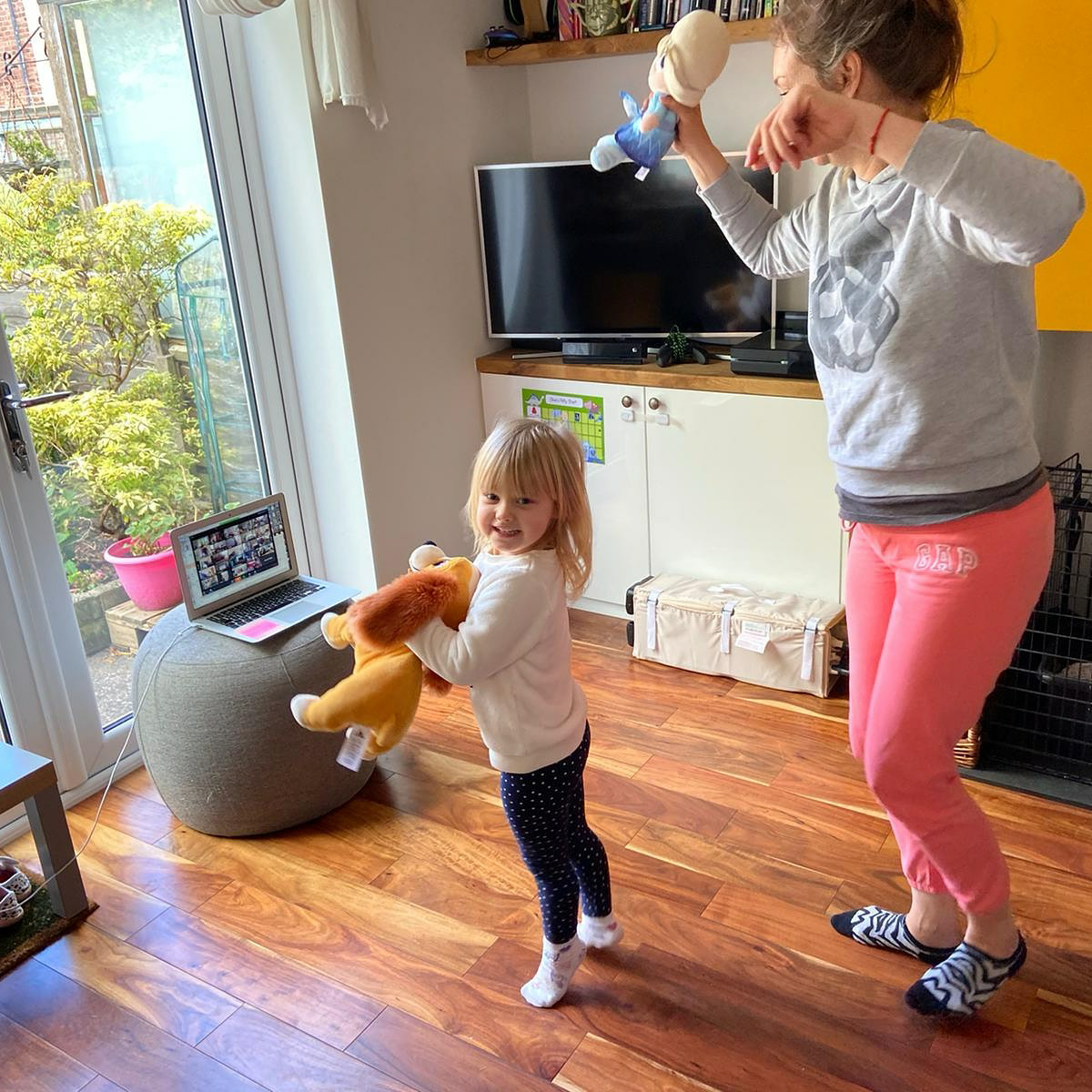 Materials
Before each session a list of suggested materials is sent out to participants. This builds up excitement and anticipation for the session but also helps to create a stimulating, tactile and hands on experience for everyone. It is never assumed what people have at home and there is never a need for 'art materials'. For example, in the most recent session the whole session was spent exploring a cardboard box, demonstrating to parents that everyday objects around the home can be used in a variety of different ways.
For a recent session exploring paint we suggested a variety of homemade paint recipes and in place of clay we suggested homemade playdough recipes using simple ingredients from the kitchen cupboards.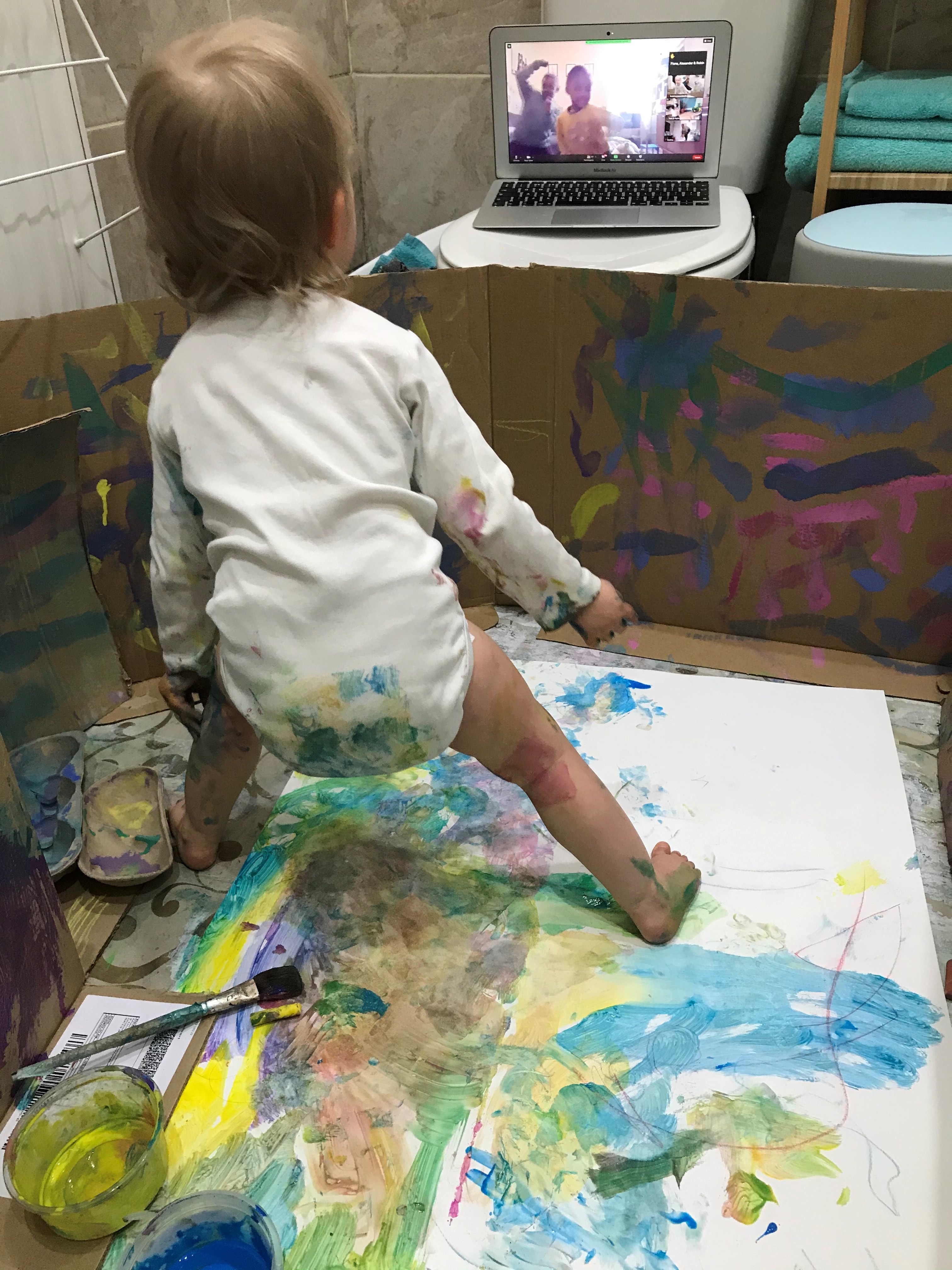 PLAY Live Baby
Evaluation of PLAY Live suggested a need for something tailored specifically towards babies born during lockdown. In March 2021 a new strand to PLAY Live was launched called 'PLAY Live Baby' which focuses on providing new parents, often struggling due to limited contact with friends, family and support networks, with much needed interaction and play inspiration to help them bond with their babies.
"I had my baby in lockdown so I've never been to any classes with her. We've tried a few online (unsuccessfully) but we both loved today's session. Loads of ideas to use beyond today too." PLAY Live parent
Over the last 9 months PLAY Live and PLAY Live Baby have engaged a total of 3311 children and their grown-ups, growing from 95 participants in the first session to over 550 in the most recent.
The pandemic provided an opportunity to try something we wouldn't have otherwise tried. We've created a play community that brings people together with no limits in terms of distance. A unique, diverse mix of people from across the UK and across the world (including Greece, Argentina, Portugal, Ireland and the USA) who come together in their homes, hospitals, refuges, community centres, schools or nurseries to connect through the universal language of play.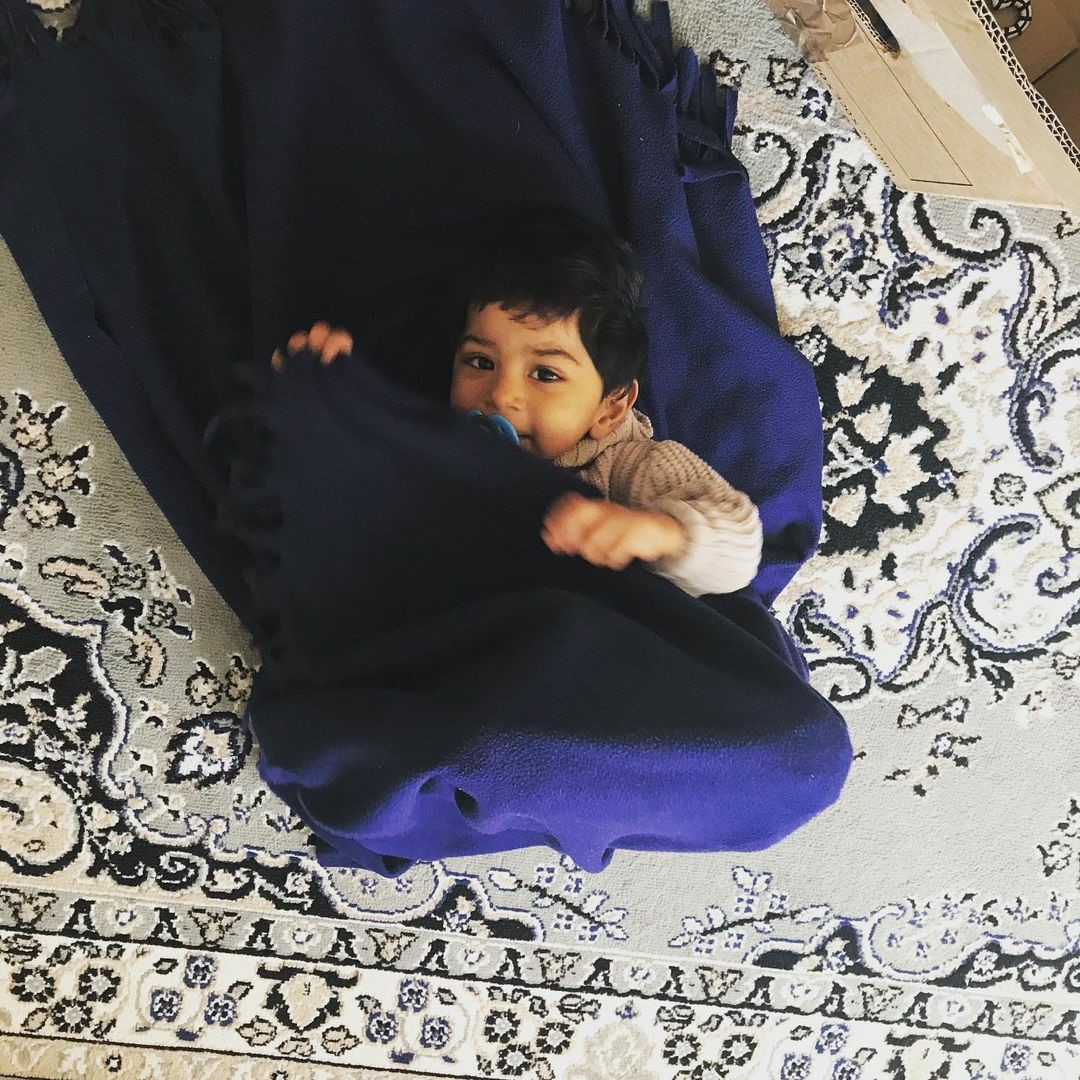 Looking forward
As COVID-19 restrictions ease and families have more opportunities to participate in 'in-person' sessions there is huge potential to continue to use PLAY Live to widen our reach into the community and provide a bridge to engagement. There can be many barriers to visiting art galleries but by reaching out into the safety of a familiar setting it can help to build relationships and confidence to eventually visit the building and/or park. We intend to develop more partnerships with organisations within the community to continue to open up the Whitworth to new and more diverse audiences.
Lucy Turner is Producer at the Whitworth art gallery in Manchester. She specialises in Early Years education and is passionate about combining art and play to inspire curiosity, promote wellbeing and make positive social change.
You can read more about PLAY Live on the Whitworth's Civic Engagement & Education blog here: https://civicengagementandeducation.wordpress.com/2020/12/15/play-live
Instagram @earlyyearswhitworth & @whitworthart
Twitter @lucyearlyyears & @whitworthart
Facebook @culturekidsmanchester & @the whitworth
Can you help us find out more about children and young people's play during the pandemic, both onscreen and offscreen? Please share your examples here.