As a researcher interested in what young people make with digital media I'm looking forward to knowing if and how children have responded to the pandemic through the medium of film. We'd welcome any movies you've made whilst playing during the pandemic.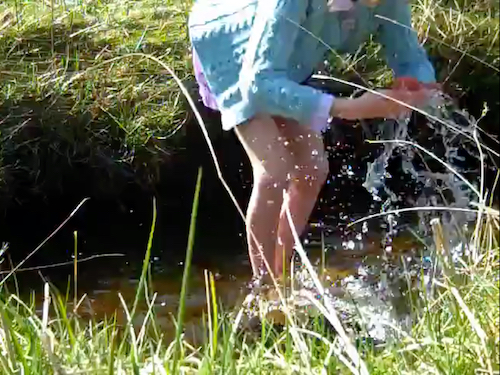 Child playing in a stream in the child-made film Blue Raspberry
I'm part of a network of film educators who believe that the moving image is unacceptably side-lined in many schools, whereas it could be viewed as an important part of literacy. In this post. I'd like to emphasise the relative ease with which videos of everyday play, for those children with phones at least, can be captured, edited and shared.
As may be the case for many readers, I find that occasionally some of the bits and pieces I encounter online inexplicably stick around. Every now and then a child-made clip or short film comes along and lodges itself in my memory. As I was planning what to write in this blog post I remembered a film that did just that a few years ago. This film is called 'Blue Raspberry' written and directed by Bridget Harley, who at the time was a pupil from Law Primary School in East Lothian, Scotland. This 10 minute film chronicles everyday family living, and a particular incident involving some sweets. As the Vimeo link below indicates, Bridget was part of a film education programme led by Alasdair Satchel called Understanding Cinema. Over several weeks, and with the use of a propped-up phone, Bridget took a great many carefully crafted one-minute-long shots, and with the help of film tutor Jamie Chambers she distilled a version of her story[]
Blue Raspberry was made way before there was any hint of the Corona virus pre-pandemic, so the film finds its way into this research blog to act as inspiration, and because of its playful and child-oriented qualities. The film offers a sense of playful free-roaming 'cinéma vérité': shots of kitchen banter, teeth cleaning, sweet-buying and squabbling, are cut with close-ups shots of sea, stone and slippery play with muddy friends' feet. These sensitive and perceptive shots could only be filmed from a child's perspective, both in terms of framing and story - hence the film's unique charm.
So my blog post calls upon all those junior film-makers, documentarians and tale-tellers to send us their movies, polished or unpolished, all are welcomed. Do you have video clips that depict what you've been doing or how you've been feeling over the pandemic period? Clips can be sent individually or strung together in free editing software to create a sequence of special moments. Play will find its way, like Bridget's beautiful clips of water flowing around stones, and over sand and pebbles, it will negotiate the blockages and the barriers, morphing into new forms to create new channels and new experiences. It's the very momentum of play that forges new memories, and film can play an important role in sharing these pleasures with others.